Focus Applied Technologies Dynamometer Testing at SEMA 2019
---
For the 5th year in a row Focus Applied Technologies supported the Shell Eco Marathon Aisa event with Dynamometer testing services. This year we brought not only the Hypermileage chassis Dynamometer, but also an integrated Air/Fuel Ratio meter (for testing and tuning of spark ignited engines) and a current clamp meter and voltage probe for Electric Vehicle testing. Over four days on site we ran a total of 55 cars, a new record, often running up to 9:30 at night! Following the trend of recent years there are more and more cars performing tuning and optimization or their controllers, gears and driving styles, and fewer fundamental problems. As the race was held at the Sepang F1 course, many teams had troubles getting over the hill, so we spent a lot of time testing cars for hill climb capability, and helping the teams optimize their clutches, gearing and drive components. A pareto of the issues seen is shown below.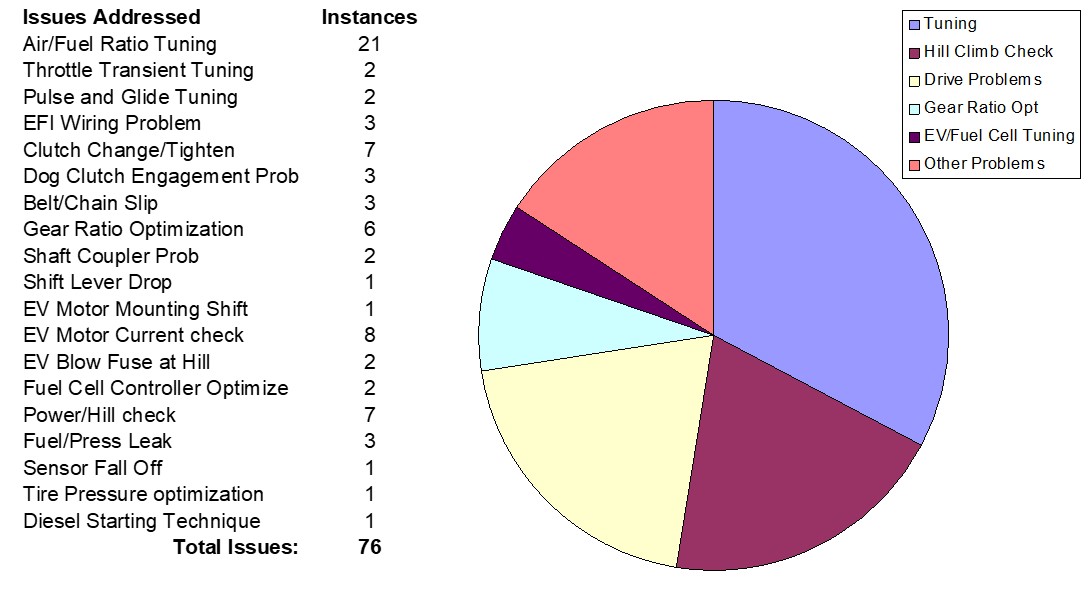 About 1/3 of the testing was tuning, or EV controller/fuel cell optimization. About 40% of the testing was associated with final drive problems, and hill climb testing. This is much higher than in Manila or Singapore as those venues have almost completely flat tracks, compared with the relatively "hilly" Sepang circuit. Many of the cars are geared for a flat track, and either lack the torque to climb the Sepang course hill, or their final drive, belts, chains and clutches can't handle it. Electric vehicles had troubles blowing fuses on the hill climb, until they were upgraded after dyno testing. A number of teams bought adjustable clutches, and were only able to get over the hill after tightening and checking on the dyno. As usual there were a large number of individual problems addressed, including tings like wiring faults, and disappointingly fuel system leaks. Again we recommend that Shell develop a more aggressive "barb" on the bottom of the fuel bottles to prevent the fuel hose from slipping off when hot.
We ran 55 cars this year, a new record, and got a lot of use out of our AFR meter for tuning. We even sold and installed a few "FAT Power Strechers" on cars this year. There was a ton of interest in our seminars, and the HyperMileage Chassis Dyno. One of the Saudi teams brought theirs and were quite busy tuning in the dyno tent. We all lost our voices after 5 days of shouting instructions over racing engines till 10:00 at night!